The Snow Storm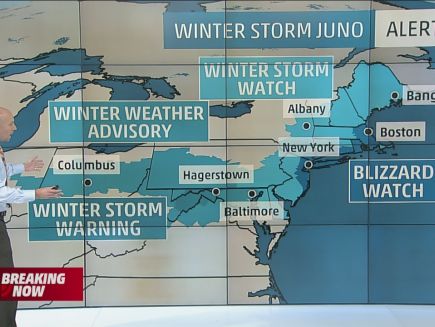 NORTHEASTERN UNITED STATES– The snow storm happened on the 26th through the 27th of January, 2015. The name of the blizzard was Juno.
It wasn't as bad as it was supposed to be. Actually we might have gotten two feet of snow, but we only had one.
Even though  we didn't have an extra foot of snow, it was still great to have a day off. You could have gone sledding or ice skating, built a snow man, made an igloo, sat near a nice, warm fire, played a board game or even baked cookies.
Almost every kid loves snow day–no homework, no school, snow sitting outside your house, waiting for you to play in it. But a ton of grown ups hate it–shoveling snow, it being so cold, having nothing to do, not being able to go to most stores. Other grown ups love it–no work, making snow men, watching movies, playing with their kids.
No matter whether you like it or not, it's fun to know what other people did.
Chloe Castro said, "I stayed home and played video games on my Playstation 4."
I went sledding for the snow day and played with my family. There were many varieties of things that you could have done over the snow day. But if you did nothing, you could still do something next snow day. Besides, there's more snow coming Friday!