5th Grade Ballroom Dancing Tryouts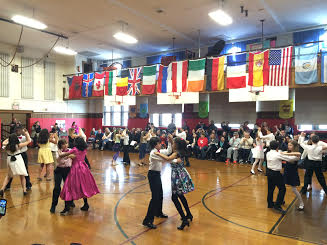 HUTCHINSON SCHOOL– The 5th grade students have been painstakingly practicing for an exhilarating competition: the ballroom dancing tryouts.  They have been practicing the Tango, Swing, Merengue, Rumba, and the Foxtrot. Our teachers and dancing instructors, Ms. Soccodato, Ms. Morrissey, and Ms. Eva have been scrutinizing and judging the students carefully. They judged based on the accurate dancing movements, correct hip motion, eye contact with your partner, good frame position (crispy chicken wings), racetrack and normal direction, foot posture, a confident flair, foot motions, and, of course, smiling!
Congratulations to the girls- Ella, Sophia, Nadia, Lucia, Shannon, Yasmin, Ivanka, and Solee. For the boys, congratulations to Nate, Sam, Aidan, Cristian, Aaron, Atiba, and Nick C.! They have already encountered one competition, and triumphantly won with first place as Yellow Team. As runner-ups, second place was won by the Red Team. Both teams will furthermore proceed to the next competition. (They have just completed that stage of competition,too.)
In the tryouts, everybody learned the accurate dancing with Ms. Soccodato, but everyone who competed had so much talent! Even for those who didn't make it, they still wish the team a heartfelt, "Good luck."  For next year, 4th graders (who will turn into 5th graders) will have the chance to try out for the competition team and dance for their parents and the younger grades. However, even if you don't make the team, you can always continue dancing in Ms. Soccodato's Tuesday night classes, and keep practicing at home. Prepare yourself your next year's ballroom dancing, because it won't be easy!
Leave a Comment