The 5th Grade Ballroom Dancing Moves!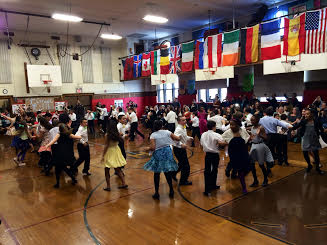 HUTCHINSON SCHOOL– Ballroom dancing  is the most fun thing ever because you learn really interesting moves. Down below, there are the ballroom dancing steps. When you start particing, you have to get the moves correct.
When you are in 5th grade, Ms. Soccdodato will do tryouts for the dance team. You will learn every ballroom dance, such as merengue, fox trot, rumba, and the swing. These dance move are very, very easy. If you practice, you will love doing ballroom dancing!  I hope you love ballroom dancing!
The first dance we learned was the merengue.  Here are the steps:
Moving your hips
Turn around the clock … 3:00, 6:00, 9:00, midnight
Turn your partner
Starburst
Crispy chicken wing posture
Smiling
The second dance we did is the fox trot:
away, away, boom boom, back, back….
C-step
Then the 3rd ballroom dance is the rumba:
square
rectangle
travel
turn around and show your diamond, and comb your hair
Then the 4th ballroom dance is the swing:
jump, jump
turn around
boy turns
boogie walk
jazz hands
Then 5th ballroom dance is the tango:
ladies go back and the men go front of the ladies
you have to say, "T, A, N, G, O," and you repeat it two times
1, 2, rock rock, N, G, O
You should try these ballroom dancing moves!