Presidents' Week!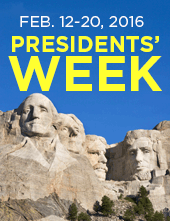 It's almost time for Presidents' Week! It's a week off to celebrate great presidents. It's a day to celebrate George Washington's and Abraham Lincoln's birthdays.
Presidents' Day is on February 15th. That means we will have off from February 13th to February 21st. This is a lot of time to do tons of fun things. What will you do?
Courtney Valente said "I'm going to chill out. I think that Presidents' Day is a great way to honor past presidents' birthdays."
Chloe Castro said, "I want to go to Brazil over the break." She also said, "My favorite part about Presidents' week is there's no school."
Who's your favorite president? Even though your favorite might be Abraham Lincoln, his birthday is not the national holiday. Did you know that Abraham Lincoln's birthday was on February 12th? But if your favorite president is George Washington, you're in luck because his birthday is the national holiday. But later on, the country changed the holiday to Presidents' Day to celebrate all great presidents instead of celebrating only him.
Presidents' Day was founded in 1879. It was first celebrated on George Washington's actual birthday, February 22nd, but then it was shifted to the 3rd Monday in February.  That means poor George Washington has his birthday changed every year!  Abraham Lincoln's birthday doesn't change, though, and he still gets credit in this awesome week.
Are you ready for Presidents' Week?  No school! It's a lot of time to have fun. What will you do?