Spring Sports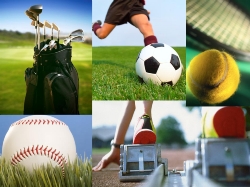 Do you play a spring sport? If you do, you know it's tons of fun. If you do, you know that it's not usually indoors on ice or in a court. You know it's outdoors.
Lacrosse, soccer, football, rugby, baseball, golf and tennis are some examples of spring sports. There are probably tons more that I haven't even thought of. Spring sports can be a big commitment though.  Sometimes they're 3 times a week or more, but so were winter sports. As you get older, they could even have practices and games in the pouring rain.
Let's see who else is excited for the spring sport fun.  Julia Scotto said, "I'm playing lacrosse. I can't wait to play lacrosse!"
Rachael Janos said, "I'm playing travel soccer and I'm excited."
I'm playing travel lacrosse and travel soccer and I am super excited!
So, spring is here and outdoor sports come along with it. Even if you don't  play a spring sport, you can still have tons of fun outside in spring, so get out and enjoy the sun!  Get the jerseys, the equipment and  the coaches, and get ready to play some SPRING SPORTS!