The E.L.A Testing in the Upper Grades!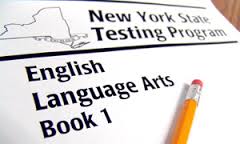 NEW YORK STATE–The big test is in that has kids crying.  It's called English Language Arts, also known as the E.L.A.
The reading and writing test in 3rd through 8th grades is here, and it is a test given and made by the government.   It is where you read stories, and then answer questions.  There are two books of multiple choice questions, and one book with an essay.
Kids that are in Kindergarten, 1st, and 2nd grades:  Beware!  This test is coming!  It started on April 3rd it ends on April 6th. But if you go into the test with a good attitude, you'll come do better.
Third grader Zainab Main said, "I thought I did well on the E.L.A test because I am good at reading.  I liked the E.L.A test because I like reading.  It is fun and I like using my imagination. I don't like to write, because it hurts my hand too much."
Now, here comes the math state test!