Green Bay Packer Fans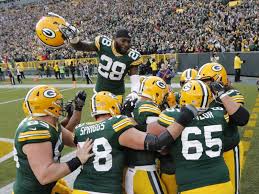 Hang on for a minute...we're trying to find some more stories you might like.
HUTCHINSON SCHOOL– The Green Bay Packers are a football team.
Some people in Class-3Ru are Packer fans.  Mrs. Ruprich and SC are Packers fans.  Read more to find out what players they like.
Mrs. Ruprich thinks, "The Green Bay Packers train hard, work well, and play good." Mrs. Ruprich's favorite players are Aaron Rogers and Mason Crosby.
SC said, "I like the Packers because they won more games than the Jets."  SC likes all of the players.
One of the best players is Aaron Rogers, who is number 12.