Anne Hutchinson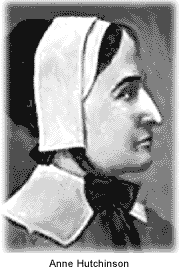 You may be wondering why our school is called Hutchinson.
It is named after Anne Hutchinson, a lady that had 15 children: Edward, Susanna, Richard, Faith, Bridget, Francis, Elizabeth, William, Samuel, Anne, Mary, Katherine, William, Susanna and Zuriel. She was a midwife. She was married to William Hutchinson. Her parents were Francis Marbury and Bridget Dryden. She was home-schooled. She was related to two governors and she was related to some of our past presidents. She was famous because she did an experiment of how to do church in a different way and she got on trial. She died at age 52. She was a famous lady.
That is how the Hutchinson River Parkway got its name, and since our school is next to the parkway, that is the name of our school. I hope you learned a lot about our school's name, because I did!
Leave a Comment