St. Patrick's Day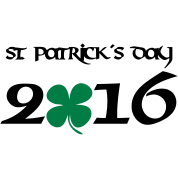 Get ready because it is almost St. Patrick's Day!
Wear green colors, find some 4-leaf clovers, and go see the parade. There are lots of fun things to do. This year St. Patrick's Day will be on Thursday, March 17th.
St. Patrick's Day was originally just a feast day for saints of Ireland. Now it is a big festival celebrating Irish culture.
Did you know that St. Patrick wasn't even Irish? He was captured and turned into a Catholic, and then he moved to Ireland to spend the rest of his life there. St. Patrick used the shamrock to explain the Trinity.
"St. Patrick's Day is connected with the color green because of the shamrock, and because Ireland is called "The Green Isle," shared Courtney Valente.
Did you ever wonder why St Patrick's Day always made you think of Leprechauns? Cartoons usually used Leprechauns to make fun of the Irish because when they came back from the Potato Famine, their clothes were 20 to 30 years old.
St. Patrick's Day is right around the corner, so get ready. Parades, 4-leaf clover's, shamrocks, and the color green are coming your way. Happy St. Patrick's day!