Valentine's Day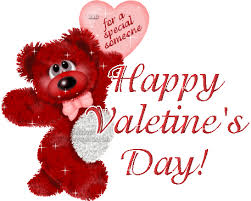 It is time for teddy bears, hearts and lots of Sweet Tarts. Happy Valentine's Day!
The day is about to arrive, so make your Valentines and cookies. Valentine's Day is going to be flying in on February 14th.
Did you know that 150 Valentines are usually exchanged each year? It makes it the second most popular card sending holiday; the first is Christmas.
Valentine's Day was first founded by the mythical St.Valentine. There are many stories about St. Valentine. One of them is that while he was in jail, he saw a beautiful girl. One day he sent her a Valentine that said: From, Your Valentine. That phrase is still written on many Valentines today.
Courtney Valente said, "I like giving Valentines and I like making sure no one is left out. It is Valentine's Day and everyone should be happy."
Chloe Castro said, "I like the candy hearts that you get on Valentine's Day."
Its time for cheer – Valentine's Day is here. Get your flowers and teddy bears out! It's time to have lots of fun and share Valentines. There will be parties in the classrooms and lots of fun games to play. Happy Valentine's Day!