Renaissance Bagel Cafe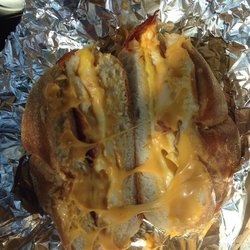 PELHAM, NY–Renaissance Bagel Cafe is located on 5th Avenue in Pelham.  For food they serve breakfast and lunch there.  Their breakfast consists of bagels, eggs any style you want them, pancakes, French toast, and much more.
My dad is a daily customer.  His favorite food is egg whites with cheese on a roll.  My sister's favorite thing is a bagel toasted with butter.
At 11.30 they start to serve their lunch menu.  They have everything from pasta, to chicken, to freshly made roast beef, sausage and peppers, and one of my personal favorites, macaroni and cheese.
Jackie Pennetta's says, "My favorite thing is bacon, egg and cheese on a bun and mac and cheese."
Chlole Castro's reporter, "My favorite thing there is the Caesar salad wrap and an everything bagel with scallion cream cheese."
If you're ever in Pelham with an appetite, I recommend stopping by the Renaissance Bagel Cafe for a bite to eat!
View Comments (3)