Calling all Mad Scientists!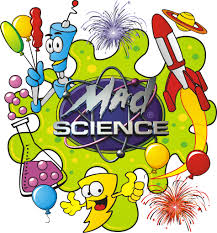 HUTCHINSON SCHOOL– Ms. Soccodato's enrichment class is called Mad Science. There are four Mad Science classes every week. Tuesday, K-1, Wednesday, 2-3, Thursday, K-3, and Friday, 4-5.
In Mad Science, we do many cool experiments, such as making pictures with shaving cream and food coloring, or making giant bubbles with straws, string, and soap with water. If we have time, we may even read stories. There are 5th grade helpers from Ms. Soccodato's class for every day. They help the students with their experiments, and keep them calm.
SL noted, "I'm so happy  that they opened up a 4th and 5th grade Mad Science."
EC states, "I think Mad Science is a good time to make science fun."
NS quotes, "I think Mad Science is great because Ms. Soccodato lets her students participate and help other younger students."
Mad Science is a fun experience for all. For every grade, it is a fun time to learn, and have fun at the same time! Finally, it is also a big treat, because of how many masterpieces you can create and take home!
Leave a Comment