The Book Fair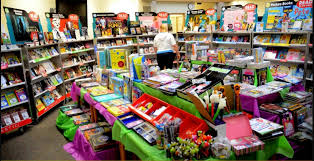 MUSIC ROOM AT HUTCHINSON SCHOOL– Everyone could agree that the books you got from the book fair were good books. My mom worked at the book fair only for one day and she said she loved doing it. I hope you got a book or got something you really like.
There were Captain Underpants, Diary of a Wimpy Kid, and scary books. I don't know about you, but I think the most popular toy there was the invisible ink pen.  I saw more than twenty kids at recess with that same pen.
TG says, "I liked picking out drama because I really wanted this book and i finally got it and I am happy."
SG says, "I think the book fair is very convenient for the kids at Hutchinson."
JS says, "It's good for kids and they like getting books from the book fair."
And last but not least, IH says, "It was fun and interesting. I loved looking and buying new books."
At the book fair kids get books but I have seen some kids only taking out toys. It's okay if you got books the last time, but it's not okay if you only get TOYS. I won't take it anymore! I just want some kids to read and not just watch YouTube all day.
Thanks for listening to my story.
View Comments (3)