The "Fudge" Series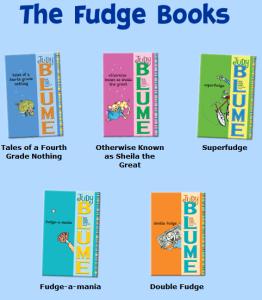 There is a funny book series about a little boy called "Fudge," written by author, Judy Blume.  Fudge has a big brother named Peter. He drives Peter crazy! He is annoying, but he IS also funny.
Caroline Garufi says, "It's very funny!"
Jose Salvador thinks that, "It's amazing!"
Esme Navarro says, "It's pretty interesting."
Fudge can be really mischievous.  He pushes Peter to the point where Peter says he wants to "kill" Fudge, even though he doesn't really mean it.
Fudge NEVER gets into trouble. He is pretty much a disaster waiting to happen.
Peter's friend, Jimmy Fargo, thinks that Fudge is annoying and a pain, too. So, even though Fudge is a big pain, he is pretty awesome!