Hutchinson's History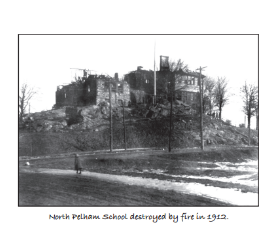 HUTCHINSON SCHOOL—Have you ever wonder what Hutchinson School was like long ago?  I know that if you are in first grade, you will learn about the history of Hutchinson.
Hutchinson School burnt down long ago. It used to look sort of like Prospect Hill does now, and when it burnt down, they fixed it the way it is now.
The principal, Mrs. Tarazi, said, "There are about 60 students that graduate each year. Hutchinson was built in 1889, and when it burnt down, the new one was built in 1914."
A new thing used at Hutchinson school is the B.E.A.R. (Be safe, Eager to learn, Act responsibly, Respect others) rules and tickets. Mrs.Tarazi didn't go to Hutchinson when she was a kid because she grew up in California.  She has only been a principal for nine years at Hutchinson.
Mrs. Ragosta did not go to Hutchinson when she was a kid…she went to Prospect Hill instead.
"The biggest class I had had 27 students in it," she said.  The classes she taught are K-1 special ed, 2nd grade, and 3rd grade.  There used to be no computer lab, and there was only one computer per room, and no iPads.
Mrs. DeVico didn't go to Hutchinson either. She went to Prospect Hill, too.
"The biggest class I had had 23 students," she stated.  She has taught only 1st grade at Hutchinson school.  Some things that have changed are the SMART Boards, computers, the library, and the main office.  But one thing that did not change is the great students and the wonderful families.
Hutchinson School has been around form more than 100 years.  Hutchinson is a great school and a fun one, too.  So, if you go to Hutchinson School, you are very lucky!
Hutchinson is a school where you can learn a lot about the things that are here, and how they got there. If you're in first grade, there is a lot for you to look forward to learning about Hutchinson School!
View Comments (4)