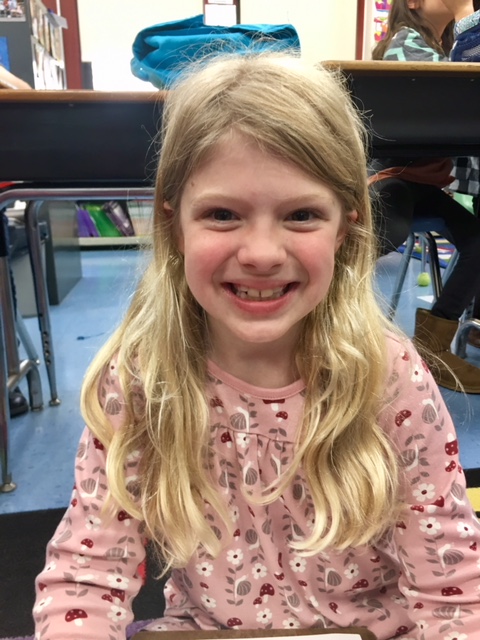 My name is LC. I am 8 years old. I am in Mrs. Ragosta's class. I have a pet dog named Belle, and she is 2. She is black and has brown eyes. I have one sister named Casey, who is 6.
My favorite hobby is drawing. My favorite food is fish sticks. My favorite candy bar is Kit Kats. I really love to write just as much as I like to draw!
My mom is a writer. I sometimes help her with her work. She works at home and is very busy. When she is busy, I have a play date with one of my friends.
I have 4 crushes. I am not telling you who they are!
I saw a rainbow on November 6th.
I once kissed a dolphin on the lips!
I am really excited to be in the Newspaper Club!
LC, Staff Reporter
Feb 10, 2020

Art Club 2020: January-March

(Story)

Feb 04, 2020

5th Grade Aztec/Inca/Maya Civilization Project!

(Story)

Feb 04, 2020
Jan 15, 2020
Dec 11, 2019

5th Grade Field Trip

(Story)

Nov 13, 2019

Senior People Ballroom Dance

(Story)

Nov 13, 2019

Immigrants/Ellis Island

(Story)

May 29, 2019

Carnegie Hall, Manhattan

(Story)

May 21, 2019

4th Grade Field Trip to Philipsburg Manor

(Story)

May 21, 2019

3rd, 4th, And 5th Grade Math State Test

(Story)

May 01, 2019
May 01, 2019
Apr 30, 2019
Apr 03, 2019
Apr 03, 2019

Friday Art Club Update

(Story)

Apr 03, 2019

Math and ELA Tests

(Story)

Mar 20, 2019
Feb 15, 2019

4th Grade Revolutionary War Books

(Story)

Feb 11, 2019

The Fourth Grade Band Concert

(Story)

Feb 06, 2019
Jan 30, 2019
Jan 18, 2019

Valentines for Veterans

(Story)

Jan 16, 2019

Habits of Mind Town Hall Meeting

(Story)

Jan 09, 2019
Jan 02, 2019

Fourth and Fifth Grade Band, Orchestra, and Chorus Concert

(Story)

Dec 17, 2018
Dec 05, 2018

Sun, Moon, and Earth

(Story)

Dec 05, 2018

Fourth Grade Social Studies Test

(Story)

Nov 26, 2018
Nov 07, 2018

Fourth Grade Field Trip

(Story)

Oct 30, 2018
Oct 17, 2018

Fourth Grade Test

(Story)

Jun 13, 2018
Jun 13, 2018
May 25, 2018

Sakura, The Japanese Resturant

(Story)

May 25, 2018
May 22, 2018
Apr 11, 2018

The ELA State Test

(Story)

Mar 14, 2018

April Fool's Day and Easter This Year

(Story)

Feb 16, 2018

Black History Month

(Story)

Feb 01, 2018

The Kindness Project

(Story)

Jan 29, 2018

Martin Luther King, Jr.

(Story)

Jan 29, 2018

"Aladdin" on Broadway

(Story)

Jan 22, 2018

The Electricity Project

(Story)

Jan 10, 2018

Hutchinson School and its Big Vote

(Story)

Jan 03, 2018
Dec 13, 2017
Dec 08, 2017
Nov 13, 2017