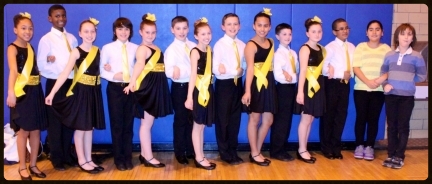 P.S.64– Yet again, the Hutchinson dance team has come back with level gold, and will be going to the GRAND FINALE! It took place at P.S.64 in New York City where nine teams danced. Everyone was nervous, but also they thought it was fun.
The dance team members are Nicholas Caruso and Shannon Holland, Nate Bloom and Sophia Shulzhenko, Samuel Sucena and Lucia Lavallvee, Atiba Alaxander and Solee West, Aidan Walsh and Yasmin Almeida, Cristian Pesante and Ella Burns, and Aaron Barr and Ivanka Bustamante.
"Everyone on the dance team did amazing," all of the parents say.  The dance team is proud of their win, but are pushing to work harder.
Sophia Shulzhenko said, "I think it feels amazing winning and going to the grand finale, but everyone has to push harder." Sophia is not the only person thinking the team has to push harder.  The whole team plus Ms. Soccodato and Mrs. Morrissey are pushing harder to get to an amazing level, like the kids from last year did. Sophia was asked why dance is important to her and she said,  "I just love it.  It's fun, it makes me happy, and it feels as if it just completes me."
The whole dance team wants to win the grand finale and they feel the same way as Sophia does.